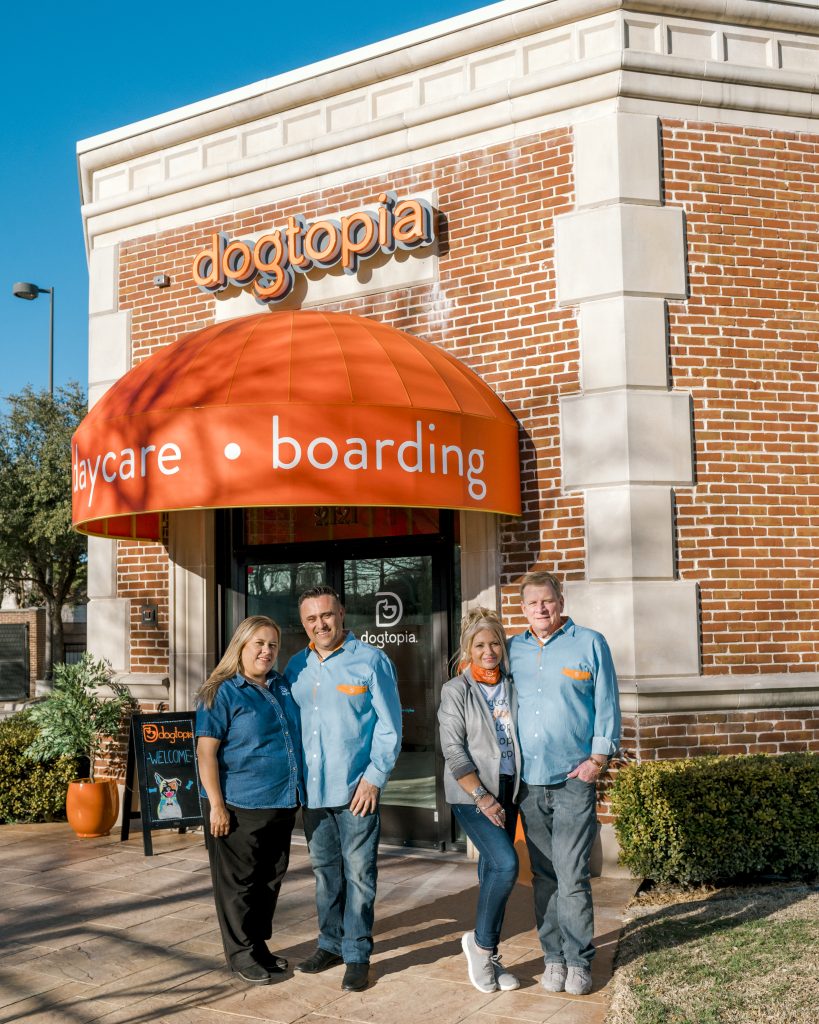 By Meredith Knight | Photos by Dallas McNeal Photography
---
I haven't double-checked this with my dog yet, but I'm willing to bet 2020 was dogkind's favorite year. All those days spent with their families at home. All that endless companionship. Just being together right where we wanted to be. Then, the pandemic ended, families returned to work and school, and precious pups were once again left waiting for everyone to return home.
Here's some good news for dogs in the Greater Richardson area. Even if your family has to dash off to work and school again, it doesn't mean there won't be someone there to spend time with you, to feed you and pet you, to play with you and scratch that special spot.
Dogtopia of The Shire at CityLine is the home away from home you and your dog have been waiting for. A one-stop shop offering daycare, grooming, spa, and overnight boarding services, their mission is to make sure your four-legged family members are kept safe and have fun when you can't be together. Certified "canine coaches" are trained to manage and educate dogs of all breeds. Pet parents get periodic report cards to keep you informed of your dog's behavior, their new BFFFs (Best Furry Friends Forever), and tips on how to implement the positive educational methods at home.
"We understand your dog is a member of the family," said Co-Owner/Operator Ron Blake. "You want to provide your dog with safe socialization, so they can meet and play with like-minded pals, exercise to keep them healthy and extend their lives, and education to help ensure they're well-behaved at home and out in public. Dog Daycare should be a place where your dog feels safe and loved while learning valuable socialization skills. Dogtopia is designed with these needs in mind."
"Your dog's safety is our top priority," said Co-Owner/Operator Edgar Camposeco. "Our team's training is certified by two nationally recognized associations in canine behavior. Our modern, open-play playrooms are supervised by these dedicated and certified Canine Coaches who love dogs. Your dog will be in very capable hands during their time with us. They'll be in a playroom with dogs of similar size, temperament, and play style, who are fully vaccinated and have passed our Dogtopia evaluation."
A Full Day of Fun
Dogtopia recognizes that each dog is unique, and they take the time to find the daycare, boarding, and spa package that best meets your pup's needs. Your dog's day at Dogtopia will look something like this. From morning until noon, they're invited to play either indoors where there's 4,000 square feet of playroom area, including specialized flooring and play equipment, with special diets and medications accommodated or a 2,700-square-foot outdoor play area complete with pet-safe turf. Lunch is followed by a two-hour nap. Then, it's back to playing with their friends, until you pick them up at night.
All playrooms are equipped with webcams which allow pet parents to log onto the Dogtopia app online or via their smartphones and watch their dog play throughout the day. The playrooms are temperature controlled with a sophisticated HVAC system that bring fresh air in from the outside but filters out pathogens and specialized UV lighting that helps kill airborne bacteria. All playrooms are cleaned and sanitized multiple times a day with a biologically safe, pet-friendly cleaner. Walking into the building, you smell a clean, fresh scent, not "pet odor" and you and your dog is met with smiling faces and certified canine coaches who know your dog, know what they like, and are happy to see them each morning. Dogtopia of The Shire at CityLine's hours are from 7AM to 7PM with extended hours on request for first responders.
Boarding
There are times when taking your dog with you on a trip isn't possible or isn't the best fit for your pup. Or perhaps you just need your dog out of the house overnight? Dogtopia of The Shire at CityLine offers boarding for one night or an extended period of time. While you're gone, your dog will enjoy a staycation with fun-filled days of play and exercise in the daycare in an open-play, off-leash environment. They'll also have optional access to spa services. Feel free to bring along a familiar blanket or pillow from home and to stop in before his stay for a Meet & Greet with the staff.
Spa Services
Dogtopia of The Shire at CityLine's fully equipped and stylish spa will have your dog feeling squeaky clean, smelling fresh, and looking like a million bones. Their highly trained spa team lives to pamper your pup and provide a relaxing environment where the staff uses only high-quality products that are safe for your pup's skin and coat. (See side bar for list of spa services.) And just let the staff know if you'd like to schedule some spa services for your dog, during their normal daycare time. You'll pick them up all fresh and feeling great.
Fetching it Forward
The Dogtopia Foundation enables dogs to positively change the world. To accomplish this, Dogtopia currently funds programs focused around three worthy causes: Service Dogs for Veterans, Youth Literacy Programs, and Employment Initiatives for Adults with Autism. Dogtopia of the Shire at Cityline partners with local restaurants such as Cane's to hold special sales events with a percent of all money raised going to these worthy causes. Together we can fetch it forward and enable dogs to positively change the world.
The new Richardson Dogtopia is conveniently located in the Shire Shopping Center on the corner of Jupiter and George Bush Turnpike, a block off the freeway, close to Cityline and Renner. Visit Dogtopia.com/Richardson-theShire-Cityline for a virtual tour of your dog's new favorite home away from home.
Baths are just one of the spa services offered at Dogtopia of The Shire at CityLine. They also offer:
Shampoo and conditioner

Bath time massage

Fluff dry and brush out

Nail trim

Ear cleaning

Teeth brushing
---
CONTACT
2121 Infocom Drive | Richardson, Texas 75082
(469) 202-0787 | Dogtopia.com/Richardson-theShire-Cityline