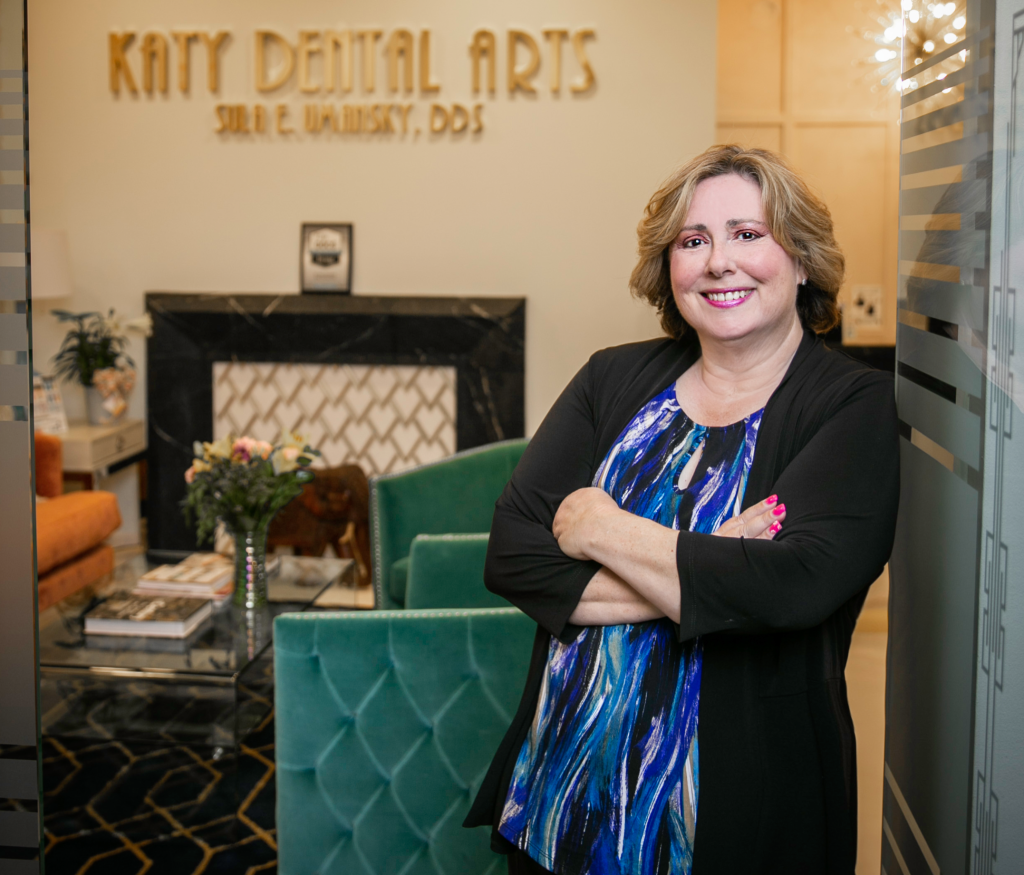 By Melissa Gautier
---
A lifetime of refining her artistry and surgical dental skills has enabled Dr. Sula Umansky to provide a personalized approach to her patients for more than 20 years. She is the owner of Katy Dental Arts, a comprehensive and beautifully appointed modern dental practice. She and her associate dentist, Dr. Naila Zafer, provide a unique blend of experience in a serene atmosphere. Their outstanding service and use of innovative technology has earned them accolades and awards throughout the Katy community.
"I'm very lucky to be able to do what I love and I'm proud to have such a remarkable dental team," Dr. Umansky says. Their warm and compassionate demeanor and in-depth explanations for treatment options give patients the confidence to make educated choices for their personalized dental care.
Naila Zafer, DDS
Dr. Zafer has been practicing general dentistry with Dr. Umansky at Katy Dental Arts for the past seven years. Her focus leans toward cosmetic and prosthetic procedures including crowns and bridges. She is also trained in the placement and restoration of dental implants. She looks forward to broadening her implant skills with additional advanced training.
Dr. Zafer has been told she has a very good chair-side manner and provides detailed, in-depth treatment options. She has earned her patients' trust and respect as a result of her compassionate and thorough approach.
After watching her parents struggle for years to find dental care in India, she and her sister decided to study dentistry. "I enjoy seeing the direct impact dentistry has on my patients," she explains. "Creating healthy smiles improves their self-esteem."
Dr. Zafer graduated from The University of Texas Health Science Center Dental School in San Antonio, Texas in 2015, earning a DDS degree. She and her husband have two boys and have made Richmond, Texas, their home. Their family enjoys outdoor activities on weekends.
Dr. Sula Umansky
Dr. Umansky graduated with a bachelor's degree in history and chemistry from Texas A&M University. She graduated from the University of Texas Dental Branch, Houston in 2002 and opened her first dental practice in Katy in 2008. Since graduation from dental school, Dr. Umansky has completed more than 1,000 hours of continuing education in cosmetic dentistry, orthodontics, implant dentistry, sedation dentistry, pediatric dentistry, endodontics and periodontics. She keeps current with the latest treatments and technologies to deliver excellence in comprehensive dental care.
"We've incorporated cutting-edge technology to not only make dentistry less stressful, but much more precise," Dr. Umansky says. "We utilize the 3-D cone beam computerized tomography (CBCT) to view the teeth, jaw, and entire head in multiple dimensions and angles."
Low-dose digital X-rays, intraoral cameras, laser cavity detection, advanced oral cancer screening technology, and more are employed in many of her procedures. Recognized for dental excellence, Katy Dental Arts' glowing reviews prove Dr. Umansky and her team are a favorite among Katy-area residents.
---
CONTACT
23501 Cinco Ranch Boulevard, Suite B-228
Katy, Texas 77494
(281) 528-9337
KatyDentalArts.com
---